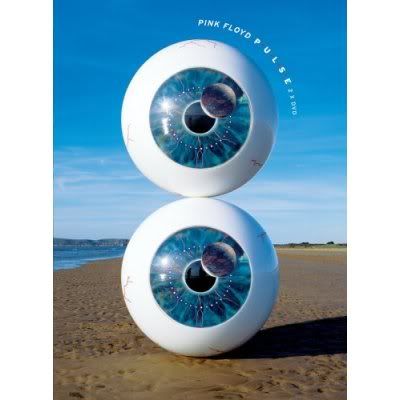 It was odd finding out this past Tuesday that Syd Barrett had died, mostly because on that same day
Pink Floyd's live show Pulse
finally hit DVD. Many a Floyd fan has waited for this DVD since the format took off. Me? Not so much, as I'm one of the lucky few to own it on laserdisc – most have probably suffered through it on VHS over the years. Luckily, the new DVD's crammed with so many cool little extras that it makes the LD copy rather obsolete.
"Pulse" was the videotaped result of Floyd's last tour, for
"The Division Bell"
, back in '94 – a show I was lucky enough to catch twice; in S.A. (Apr. 3rd – the second date of the tour!) and three weeks later in Dallas. What made the Dallas trip worth the effort was by that leg of the tour they were performing the entirety of "Dark Side of the Moon". You can find this on the second disc of the "Pulse" DVD set.
One of the great moments of the show was
"Shine On You Crazy Diamond"
, which is also the number that opens the "Pulse" DVD. It's a well-known fact that "Shine On" is about
Syd Barrett
and adding another layer to this is the film that plays on a giant circular screen behind the band. The film, made by visionary Floyd collaborator
Storm Thorgerson
, plays only over the instrumental sections of the performance, and surreally charts the life of a man from childhood innocence to adult madness and disappointment. On a symbolic level it could be about all of us, but certainly it must also be about Syd Barrett. The film was a highlight of the concert, and it's now available on the DVD as a separate feature (along with a dozen or so other such screen films) so it can be viewed in all of its beautiful strangeness. The double disc set is well worth buying for these films alone.
Syd's contributions to Pink Floyd were invaluable, but it's not as if anyone has been preparing for the "Second Coming of Syd"; he hadn't recorded anything in over 30 years. For all intents and purposes, he's been "dead" the entire time I've been a Floyd fan. While knowing about his death was a PF marker of sorts and I feel for whomever remained close to him, it's not the same as if Waters or Gilmour had died.
The whole Syd Barrett story is so sad anyway
that his death somehow doesn't make it any more tragic - for all I know he felt a massive sense of relief in his final moments. So what am I trying to say? Only that I don't want to fanboy posture and say "It's such a shame that Syd Barrett passed away" or whatever. From my standpoint, it's a far bigger shame that he was unable to share his vision with us over the past 30 years.
According to Wikipedia,
Syd spent his later years painting and creating large abstract canvases
. Perhaps now that he is gone, someone in a position to do so will see fit to share this work with the public. They may be the final visions of this enigmatic man whom many a Floyd fan would like to understand on a newer, different level.
Click here
to see a live performance of Syd and the Floyd playing
"Astronomy Domine"
, the opening track from the first PF album,
"The Piper at the Gates of Dawn"
.