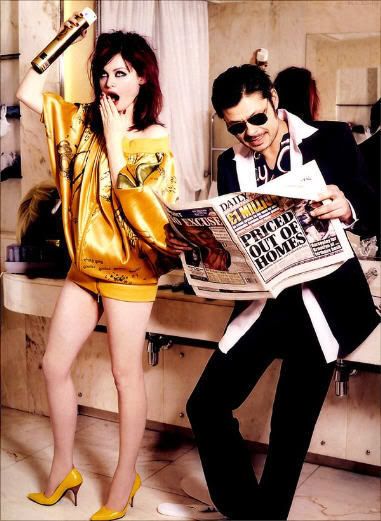 Assuming the fight was based on who was the most entertaining, if the lovely Ms. Bextor
were
to duke it out with the Sisters, I've no idea who'd win.
Sophie Ellis-Bextor
came roaring back in late May with her third album of highly danceable and addictive tunes called
Trip the Light Fantastic
. I gushed about the greatness of Sophie once before, when I
extolled the musical virtues of The Feeling
(she's married to the bassist, you see). But now she's back and has had a hand in making my summer months tolerable. Bextor's one of the great female artists of recent years and how American record labels haven't found a way to market her catchy brand of enthusiasm leaves me boggled. This one's a no-brainer, suits. Oh, and somebody
really
needs to hire Sophie to sing a James Bond theme tune, and pronto, too.
Check out her new videos:
"Me and My Imagination"
and
"Catch You"
.
I always feel so out of the loop when it comes to good tunes, but thanks to Russell T Davies' bitchin' taste in pop music I'm now familiar with the
Scissor Sisters
, a band who pulls influence from so many areas they'll leave your heading spinning and ears bleeding (but pleasantly so). The Season Three finale of
Doctor Who
was unleashed on the BBC this past weekend and the Sisters tune "I Can't Decide" played a major role in the proceedings. Turns out the Scissor Sisters are from the States and have had two albums, but it seems their music is just a wee bit more popular across the pond. Again, America has no taste. Long live the Queen.
See and hear them for yourself:
"I Don't Feel Like Dancing"
, which is co-written by Elton John and from their second album,
Ta-Dah
. And if you're a Pink Floyd fan, listen to their take on
"Comfortably Numb"
, which is one of the most peculiar cover versions of anything I've ever heard.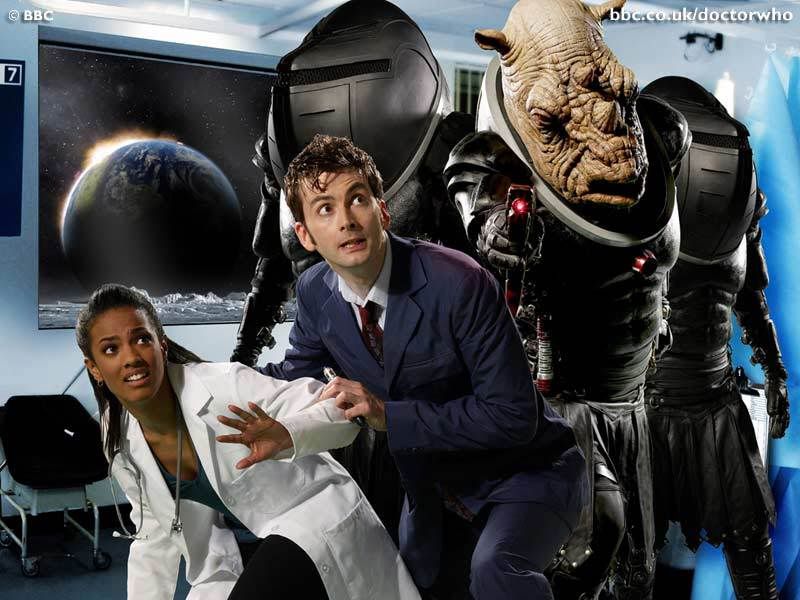 Speaking of
Doctor Who
, Season Three kicks off this Friday night, July 6th, on the SciFi Channel here in the States with last year's Christmas special, "The Runaway Bride". You remember the Bride, don't you? She appeared in the TARDIS at the end of "Doomsday" after the Doctor (David Tennant) said a tearful goodbye to the lovely Rose Tyler? Find out who the Bride is and what she's doing in the Doctor's supposedly impenetrable time/space machine. The 90-minute (with loads of commercials) installment will be immediately followed by S3's first proper episode, "Smith and Jones", which introduces Miss Martha Jones (Freema Agyeman), the Doctor's new companion...who's something of a doctor herself.
The action starts at 8PM (PST)/7PM (CST). Join me afterwards over at
The House Next Door
where I'll be unveiling yet another season full of witty and insightful
Doctor Who
recaps every Friday night.