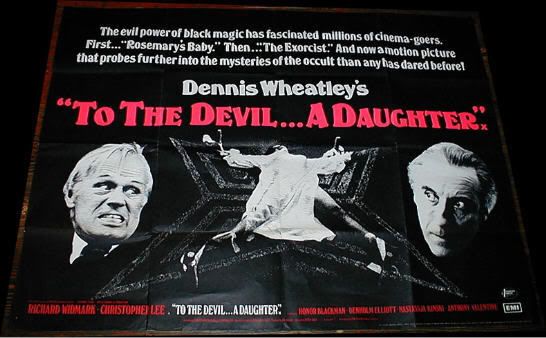 Last week's review of The Devil Rides Out
led me to a first-time viewing of the only other Hammer film based on a work by author
Dennis Wheatley
–
To The Devil…A Daughter
. Released in 1976, the film also holds the distinction of being the last Hammer horror film ever made.
Starring
Christopher Lee
,
Richard Widmark
,
Denholm Elliott
,
Honor Blackman
and a very young
Nastassja Kinski
, this is very much of an adult piece, whereas
The Devil Rides Out
has a vaguely more "general audiences" feel to it…ahem, allow me to cut through the bullshit pretension here: Nastassja Kinski at the tender young age of 16 displays full frontal nudity.
Need I write anything more? Um, I need. This is not a great movie, but it is a surprisingly watchable one. The plot is somewhat engaging, even if at times incoherent.
John Verney (Richard Widmark) is an acclaimed occult novelist living in London. One afternoon at a book signing he's approached by Denholm Elliott's frazzled and desperate Henry Beddows. Beddows weaves a story and pleads for Verney's help, telling him that if nothing else, he'll get a great book out of it. Where this proposition succeeds is in it being laid out from afar; the viewer never hears the conversation – we witness it from Honor Blackman and
Anthony Valentine
's perspective across the room. Why do I call this move a success? I cannot imagine any novelist taking Beddows' words even remotely seriously; because we never hear precisely what he says, this problematic plot point is more easily glossed over.
We later find out the proposition involved Beddows' daughter, Catherine, a nun arriving at the airport from Germany. It's Verney's job to essentially abduct her away from the man she's with – which he does and ends up taking her back to his flat for safekeeping. Before long Christopher Lee's Satan-worshipping Father Michael Rayner is pissed. Like Mocata (from
The Devil Rides Out
) before him, this is not a man with whom to trifle. Catherine belongs to him, and indeed has been groomed from birth for a very specific purpose…
The film's final 15 or so minutes are as botched as one can imagine – the height of its absurdity involving this ludicrous blood-covered Satan-baby -- achieved via a hand puppet!! -- that crawls around Kinski's vaginal area (leaving the viewer pondering whose hand is in the puppet). I kid you not…and it must be seen to be believed. Further, Lee's character is taken out by Widmark throwing a flint stone at his head – and that's it…he literally vanishes in a puff of black magic at that point.
I'm not going to bother writing much more about the plot as it would come across as unintelligible babbling...which doesn't mean I'm not recommending the film; I am and I'm not.
To The Devil...A Daughter
is a pretty fascinating slice of Hammer film history, being the not-so-big finish that it is.
Apparently Wheatley, who was a huge fan of
The Devil Rides Out
adaptation, was thoroughly disgusted and disgraced by the film and even went so far as to recant his generous offer that Hammer be allowed to adapt any of his books they saw fit (not that it really mattered since they went belly-up after this one and Wheatley died shortly after). On the other hand, the film made millions in Europe, only Hammer didn't see a penny of it due to complicated distribution deals. It's not like any Hammer film I've ever seen. It doesn't possess the somewhat hammy vibe of their 50's and 60's output; this is a film made post-
The Exorcist
, and clearly Hammer was attempting to appeal to that audience with this more serious adult fare. (It often feels and looks a lot like
The Omen
.)
Perhaps even more worth a look than the movie itself is a 24-minute documentary on the DVD entitled
To The Devil…The Death of Hammer
, which includes very frank comments and thoughts from Christopher Lee, Honor Blackman, Anthony Valentine, director
Peter Sykes
and many, many more. There are some great stories from just about everyone detailing Widmark's on-set prima donna antics, in which he went around calling the production team "Mickey Mouse" and proclaiming "This isn't how we do it in Hollywood!!!" He even tried to walk numerous times. None of this comes across in the film, however, as he delivers a pretty decent performance all things considered. Lee goes on to speak of the film's nonsensical final act, although he felt it was good stuff up until that point (which for the most part, I wouldn't argue). Apparently Klaus Kinski himself was approached for the part of Verney, but when asked if he was insurable per the areas of drug use, reliability and the like replied, "Anything over 10 ten days I can't guarantee." Good lord…the times they have a changed.
The doc, with a 2002 production date, ends with Christopher Lee speaking of his current plans to remake
The Devil Rides Out
– four years down the road, I wonder if he still has such plans as I coincidentally theorized the remake in
The Devil Rides Out talkback
.