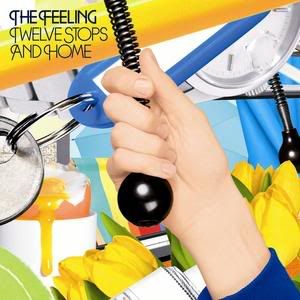 If I find any more good music this summer my ears are going to bleed, followed by the explosion of my head.
The latest tunes spinning here at the Morgue are from the UK band
The Feeling
, and their debut album
"Twelve Stops and Home"
.
Here are some guys that credit Supertramp, Queen, E.L.O., The Beatles, The Beach Boys, ABBA, Jellyfish and The Carpenters as their primary influences. The band recently did a super quick North American mini-tour (three shows - LA, NY & Toronto) and none other than Richard Carpenter himself showed up at the Left Coast gig. Words from Ciaran Jeremiah (keyboards & vocals) on
The Feeling's blog
:
Were there any highlights from the shows?
Well, the LA show was particularly crazy cos Richard Carpenter of The Carpenters came to it. We had dinner with him beforehand as well. It was quite, quite mad.
Presumably he's a bit of a hero of the band.
Yes, absolutely. I think especially to Dan, in terms of songwriting. So, yeah, it was literally meeting one of our heros. He's a good friend of one of the top people at our label over there, so that's how that came about.
And he lived up to the dream?
Yeah, he was an extremely nice man, with all manner of stories to tell. In fact, the last time he'd been to see a gig at the Troubadour was 1971 when he saw Neil Diamond!
It's particularly noteworthy that the band cites Jellyfish as an influence - they don't fit in with the others in that list as hailing from a more "classic" era. Jellyfish arrived in the early '90s and recorded only two (stellar) albums ("Bellybutton" & "Spilt Milk") before disbanding. The 'Fish were out of place and time - back then the grunge scene was exploding and the sound all the kids craved was the absolute flip-side of the overproduced power pop Jellyfish delivered.
If The Feeling sound like anyone, it's Jellyfish and that is most certainly a triumph. Like Big Star before them, Jellyfish are a gorgeous "we only ever recorded a handful of tunes...but they stand the test of time" band. Hopefully the same fate doesn't befall The Feeling.
If you're in the States, pick up the CD from
Not Lame
records out of Colorado -
click here for a direct link to order The Feeling's "Twelve Stops and Home"
; they've currently got it for a very nice price and I vouch for their reputability.
While you're at it, go ahead and order a Jellyfish CD from Not Lame. I recommend
"Spilt Milk"
but
"Bellybutton"
is great, too - or just pick up their
"Best of"
which features a few rare goodies such as swank live covers of McCartney's
Let 'Em In
& Badfinger's
No Matter What
as well as a studio cover of Harry Nilsson's
Think About Your Troubles
.
Check out this video for Jellyfish's New Mistake
- the vid quality is a bit fuzzy, but the sound is real nice.
Wait a minute...was this entry supposed to be about The Feeling? Did I allow my 16-year love affair with the boys from San Fran to take precedence? Did I mention my disgust with a review of "Twelve Stops" that pompously claimed the album had no merit as the reviewer felt he might as well have listened to his old Supertramp records? Does it matter to you that The Feeling's bassist, Richard Jones, is married to the lovely
Sophie Ellis Bextor
? 'Cause it did to me - I
love
me some Sophie! She's sexy, classy, freely admits that
"Music Gets the Best of Me"
, and is even willing to commit
"Murder on the Dancefloor"
. I know this thing between Sophie and me is the real deal, 'cuz
"If This Ain't Love, Why Does It Feel So Good?"
Saved the best for last? Maybe. Here's the video for The Feeling's first single,
Sewn
:
And here's the latest single,
Never Be Lonely
: