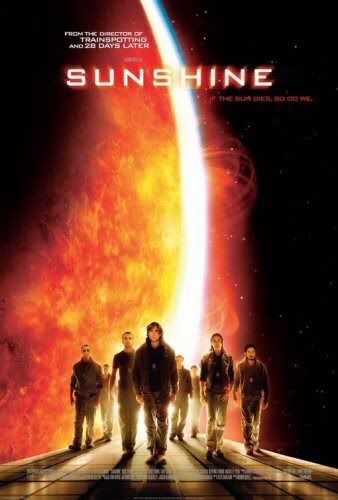 Every once in a great while a sci-fi flick comes along that just seems to hit a bunch of the right notes. Such is the case with
Sunshine
, which hit DVD earlier this week. The flick got mostly an art house sort of release here in the States, which, despite it being distributed by Fox Searchlight, seemed really odd after finally seeing it. It is, after all, a motion picture with a $50,000,000 budget. (By comparison, back in '79,
Alien
was a paltry $11,000,000.)
When exactly did $50 mill suddenly become chump change in the sci-fi arena? I guess it happened somewhere around the point that $100 mill became the minimum going rate (see
T2 back in '91
for more info…). But maybe art houses are where
Sunshine
belonged, because as sci-fi fare goes, its abstract, philosophical messages probably required far too much thought for the average summer moviegoer. Had it been a tentpole release alongside
Spidey 12
and
Pirates 86
, it would've tanked. Which is a shame, because if
Sunshine
had rocked the box office, it likely would've made way for far more intelligent fare featuring exploding spaceships and astronauts in peril.
The story seems simple, if not a tad clichéd - in the year 2057, the sun is dying and a ship called the Icarus II must travel to the sun to detonate a nuclear device to reactivate it. The Icarus I tried to do the same seven years prior, but the mission went awry and nobody really knows what happened to its missing ship and crew. Right away you're saying, "But our sun's got a good 4 billion years to go, right?" Right! That's where the film's science advisor,
Dr. Brian Cox
(a real life
Buckaroo Banzai
if ever there was one), stepped in and aided the production in creating a plausible reason for the death of the sun 50 years from now. Cox even has his own commentary track on the DVD, which may be even more engaging than director Danny Boyle's separate track. Cox admits straight up that not every facet of the film is scientifically sound, but he worked hard with the production to make as much sense out of the concept as possible, whilst still delivering a solid actioner.
But since I'm pretty much an idiot on all things scientific, most of it probably wouldn't have made a big difference to me anyway. Hell, I just wanna be riveted by a good space movie, and with
Sunshine
I was in ways that I haven't been for years with this type of fare. For at least the first 30 minutes I was reminded heavily of
Alien
; for the last 30 minutes, I felt like I was watching
2001
for a new generation. There's no doubt these classics influenced Boyle and screenwriter Alex Garland, and there's nothing wrong with stealing from the best and making something of your own. Is it as good as either of those films? Well, yes and no. It's actually
not
either of those films.
Sunshine
is its own dog, and now that it's out on DVD, I've no doubt it's going to find a place on fans' shelves right next to the works of Kubrick and Scott.
Mention must be made of the film's terrific score, which is done by the electronic band
Underworld
as well as composer
John Murphy
. The music is, dare I say, at least a third of the film's success. I'm a sucker for sci-fi music, and John Williams has his place, but it's not in a movie of this ilk. The aural textures presented here are an ideal accompaniment for this strange, compelling journey.
Much criticism of the film revolves around events in the finale, and their plausibility. They may
not
be plausible, but I'll be damned if they weren't dramatically riveting and in keeping with the setup. Your mileage may vary.
For another take on
Sunshine
, check out
Peet Gelderblom's words at The House Next Door
.