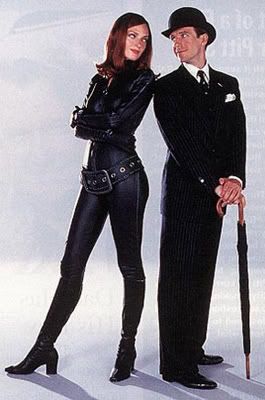 In the midst of all the Bond-age going around, it seemed like a good time to mount a defense for a true underdog: the oft-maligned and unjustly scorned 1998 film version of
The Avengers
. Make no mistake,
The Avengers
is not a great movie, but it's far from the train wreck it was painted upon release -- and since it's never shaken that stench, nor stirred up a massive cult following, the Morgue aims to set matters straight.
I'm a huge fan of
The Avengers TV series
– well, let me rephrase that…I'm a huge fan of the Diana Rigg / Emma Peel-era
[1]
. If anyone might've been a harsh critic of this redux it was going to be me, but upon seeing the film's trailer, it became a must-see movie. The style, the vibe, the look – everything about that 2 minutes smacked of slavish faithfulness to the series. There was no other popcorn flick I was looking forward to that summer as much as this one. So you can imagine how my heart and hopes sank when the buzz started mounting. Word from across the pond following the British premiere was dire; Warner Bros. opted to not screen it for U.S. critics, so reviews were scarce upon its U.S. opening.
Regardless, I went to an early screening on opening day and was weirdly entertained by what I viewed. It wasn't the masterpiece of which I'd dreamed -- nor was it the steaming pile I'd been hearing about. Were people seeing the same film as me? A quote I distinctly recall reading after the Brit premiere: "I don't know what that was, but it certainly wasn't
The Avengers
". Um, yes it was…and there's no way it could ever be mistaken for anything other than The Avengers. Of the many who were so quick to trash the movie, I wondered who'd even seen an episode in at least 20 years. Maybe that person meant, "It wasn't
Patrick Macnee
and
Diana Rigg
". If so, fair enough - it's not, nor could it have been unless the movie was set in a nursing home for retired secret agents...bringing me to the film's problematic conundrums, which I'll address before moving on to my likes.
Screenwriter
Don MacPherson
undoubtedly wrote the script with Macnee and Rigg's characterizations of John Steed and Emma Peel at the forefront of the concept. And really, how else would one write such clearly defined, iconic characters?
Remove stars
Ralph Fiennes
and
Uma Thurman
, and it isn't a huge stretch to picture Macnee and Rigg playing the parts. It'd be blasphemous to write them any other way and still call the movie
The Avengers
.
Let's get Mrs. Peel out of the way first. No actress could've done justice to Rigg's definitive performance. Rigg as Peel is like James Arness as Marshall Matt Dillon. Leonard Nimoy as Mr. Spock. Bob Denver as Gilligan. I'm hardly an Uma devotee and despite my pre-release enthusiasm (ahem…that sounds filthy), never harbored illusions that she'd live up to Rigg. She is probably miscast, but what actress wouldn't have been? All that said, she's surprisingly watchable and most importantly, wears leather like a second skin and catsuits with confidence. Her British accent is consistent, even if a tad flat. She plays Peel with a light, flirty coolness, paying homage to Rigg's legacy without xeroxing the past. For every complaint one might have about Thurman's take, there are kudos to be given – to be sure, this was an odd job.
Fiennes is a bit more complicated. He's far more even than Thurman, but his biggest problem is in choosing to make the role his own, rather than play it with the carefree demeanor Macnee infused into Steed, as it appears to be written. Fiennes instead wants his Steed to be serious, never minding that the material doesn't really call for it. He plays Steed as Bond minus the sex and violence – the equation totaling an emasculated secret agent of sorts. Forgive Fiennes this transgression -- had he invoked Macnee, he likely would've come across as a dandified homosexual. For once the famous
Seinfeld
quote can be corrupted: "And everything would have been wrong with that". Macnee straddled the fence in this area due to the naïveté of '60s TV audiences and the ongoing conviction of his performance…but whittle the Steed basics down to a 100-page script, and you might as well cast
Rupert Everett
(which, now that I think about it, would have rocked).
So at this point you might wonder what exactly it is that I like about this movie (even I'm having a tough time getting there). Outside of its conceptual devotion to the original, I like
The Avengers
for the sheer scale of its out-of-time-and-place imagination (which again, is what the series was always about). The plot revolves around the megalomaniacal Sir August de Wynter's (played to the robust hilt by
Sean Connery
) plan to control the weather and sell it to world leaders. Audacious! Clima-terrorism!! Control the weather and you control the world!!!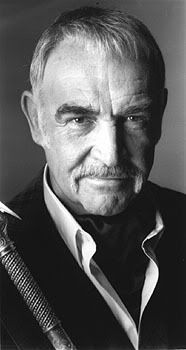 Few screen villains concoct such ideal schemes. Blowing up the world is a hell of a lot less fun than making it snow in San Antonio. It's nearly impossible to tell where Connery's heart is throughout the proceedings. Is he phoning it in? Is he hamming it up? Does it even matter? When the granddaddy of all super spies channels Goldfinger, Largo and Blofeld into one deliciously camp creation, it's best not to ponder the how's and why's. Accept that this is unique film history, whether you like it or not.
The film exists in an idealized '60s pop limbo where normal rules of spy fare simply don't apply. Nor does it look anything like our reality. It exists in one place only -- the hyperreal world of John Steed and Emma Peel, which is a wholly distinctive universe. It's a world where deadly, remote-controlled mechanical bees attack our heroes. Where villains gather together dressed in rainbow-coloured teddy bear costumes. Where
Eddie Izzard
plays a mute henchman and
Shaun Ryder
is one of his lackeys. It feels like a greatest hits package of the TV series. Scene after set piece echoes many an
Avengers
episode of days gone by – it's difficult to believe any true fan wouldn't find themselves intoxicated by the attention paid to detail.
Borderline amazing is the film working at all. Early test screenings led to hasty, massive recutting. I've read that the original cut ran anywhere from 115 minutes to 2 and half hours – its final running time is a measly 89 minutes; imagine if literally more than a third of the film is missing! Despite the cuts, and perhaps due to the film's somewhat compartmentalized structure and fairly simple plot, it miraculously moves along with an amiable stride. Aside from a few minor continuity glitches, one wouldn't guess it was such a rape victim. And yet I cannot help but think of what might have been, what director
Jeremiah S. Chechick
and MacPherson envisioned.
Bits of the excised material can be glimpsed in the trailer (the only real "extra" on the DVD); IMDB also provides
a list of numerous cut scenes
. It's a travesty that the stink still surrounding
The Avengers
is likely the only thing keeping a Director's Cut DVD from happening. IMDB users rate (at the time of writing) the film a paltry 3.3/10. In comparison, IMDB users currently rate
A View to a Kill
(which coincidentally co-stars Patrick Macnee) a whopping 6/10. I'd put Moore's swansong up against
The Avengers
and challenge anyone to prove Bond's superiority. Same for
Moonraker
. Heck, I'd even put it up against
The World Is Not Enough
, which came out a year after
The Avengers
, and is as bloated a misfire as anything the Moore era produced (which is not to bag on Moore's Bond, who is, strangely enough, my favorite).
When it comes right down to it,
The Avengers
should probably never have been turned into a film. The whimsical, flirtatious, non-cynical nature of the concept is rooted in a time and place that bears no resemblance to today. Surely there're a surplus of
Avengers
fans that abhor the piece, but they're missing out on the filmmakers' affectionate attempt to do right by the show's spirit, rather than modernize it into something rooted in the present. Do that and you end up with movies like
The Saint
or the
Mission: Implausible
flicks. Maybe these are better films than
The Avengers
, but do they embody the spirit of their source material? I can picture such an
Avengers
film and it would be anything but
The Avengers
.
Lest anyone believe I've got beefs with Bond, that's not the case. Here are my Top Five Favorite Bond Theme Tunes:
1. "Nobody Does It Better" by Carly Simon
2. "Live and Let Die" by Paul McCartney and Wings
3. "Tomorrow Never Dies" by Sheryl Crow
4. "For Your Eyes Only" by Sheena Easton
5. "Licence to Kill" by Gladys Knight
[1]
I've seen bits and pieces of the Honor Blackman/Cathy Gale era, but the videotape quality is pretty rough and they lack that
Avengers
feel. Seen most of the Linda Thorson/Tara King period, but it's too camp even for my tastes. Never seen even a single episode of
The New Avengers
. So why the indulgent qualifiers? Maybe I'm no more of an
Avengers
authority than the
Doctor Who
viewer that's only ever seen Tom Baker.