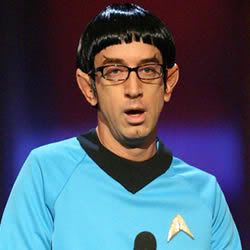 So what the fuck is Andy Dick's problem anyway? Lately this guy's been in the news more often than the lovely-and-IMHO-far-too-frequently-picked-on Lindsay Lohan. But with this cat, it's always some obnoxious social faux pas travesty mixed with a healthy dose of freakshow. I've got nothing against Andy Dick and admit to actually enjoying the weirdness he adds to a Comedy Central Roast...but many people would be locked away in an institution for these types of ongoing shenanigans.
From
CNN.com
:
COLUMBUS, Ohio (AP) -- David Stroupe said it was one of the worst experiences with a performer in the history of the Funny Bone Comedy Club.

He was referring to Andy Dick, a former co-star on the 1990s sitcom "NewsRadio," who appeared at the Funny Bone last weekend.

Stroupe, the club's managing partner, said the 41-year-old actor-comedian made inappropriate comments while on stage, groped patrons, took women into the men's room and urinated on the floor and on at least one person.

A limousine driver was to meet Dick early Monday morning at a hotel near the club, Stroupe said, but he couldn't be found and missed that morning's flight to Los Angeles.

Dick was across town, where he was issued a citation for urinating on the sidewalk by Columbus policeman John Fantin. Police eventually escorted Dick back to the hotel, Stroupe said.
So I ask again, what the fuck is wrong with Andy Dick?
A. He's trying to live up to his last name.
B. He's socially retarded and just doesn't know any better.
C. Drugs and/or alcohol abuse.
D. Tourette's?
E. He hates Hollywood and the way the machine operates, so he's trying to break it down.
F. Between Roasts, he crafts inventive techniques for keeping Dick in the public eye.
G. It's just good ol' fashioned performance art on a grand, tasteless scale.
H. All of the above.
I. Some of the above[1].
J. None of the above[1].
[1] If you chose "I" or "J", please elaborate on what the fuck Andy Dick's deal is in the comments section below[2].
[2] If you
are
Andy Dick, please
contact me
so we can arrange an interview to get to the bottom of what the fuck is going on with you...over the phone,
of course
. I could probably handle a quick grope, but I gave up the golden showers thing years ago.