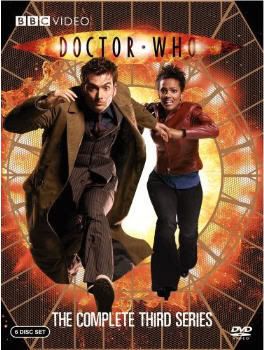 As someone who's been a Time Lord devotee since he was 13, it's almost hard to believe this revival is three seasons in. It seems like only yesterday that Rose Tyler (Billie Piper) was surrounded by moving mannequins in a department store basement when Doctor #9 (Christopher Eccleston) grabbed her hand and issued the simplest of commands: "Run!" But times change and so does
Doctor Who
. In Season Three, Rose Tyler is relegated to haunting the memories of Doctor #10 (David Tennant). From the first installment in this box set, "The Runaway Bride" (last year's Christmas special), Rose still plays a role in the Doctor's adventures, and her name continually pops up throughout the entire season.
Click here
to read the rest of the Season Three DVD review at
Bullz-Eye
.
In other Who news, earlier this week the BBC released the first shot of the Sontarans from the new series. I wrote about their return a few weeks ago and hoped they'd retain their basic look. Wish granted! There's no doubt the alien (pictured at right) is a Sontaran.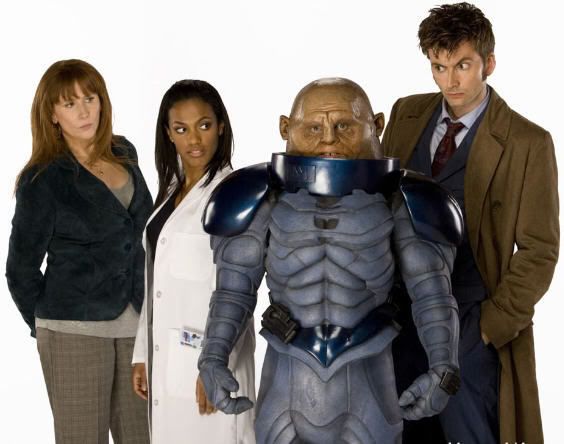 They look almost exactly the same as they did in the old series, other than having slightly cooler looking uniforms. Isn't there just a tinge of the Schumacher-era Batman costume perhaps? Apparently this story also features the return of Martha to the series (my guess is mid-season?) as the picture indicates.
What I also really like about this photo is the way Donna Noble (Catherine Tate) is dressed. There isn't anything sexy about her getup, but rather an outfit perfectly suited for adventure. Hopefully Donna will be a return to a more traditional type of companion; one who isn't emotionally fixated on the Doctor. Not that I minded what was done with Rose and Martha in that arena; quite the opposite. But it'd be nice to see a Doctor/companion dynamic that is uncomplicated by issues of the heart(s) .
Read a bit more about these matters on the official site.