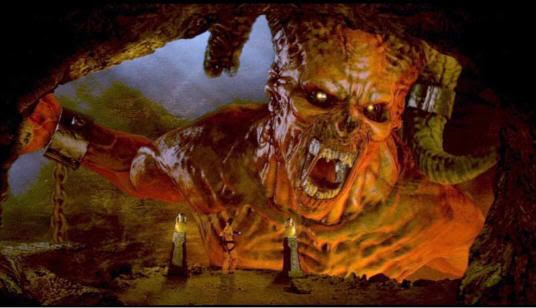 As "The Impossible Planet" drew to a close and
"The Satan Pit"
begins, two deaths occur: A pair of
redshirts
take it for the team. I had to watch "The Impossible Planet" several times before locating them prior to their passing -- a man and a woman; security drones working for Mr. Jefferson (
Danny Webb
), and they do appear in numerous scenes, subtly registering existence. The funniest moment occurs early on in "Planet", when the Doctor and Rose are first brought before the rest of the crew. Look closely to the far right of the screen -- Mr. Jefferson clearly ushers them out of the room before they can even be introduced. This two-parter sports a claustrophobic, tight-knit cast, and the pair's existence isn't even verbally acknowledged. They have no dialogue, no names and aren't featured in either episode's credits. Mind you, this is less of a criticism than an observation of the peculiar; such obvious worm dirt rarely features on
Doctor Who
.
Perhaps the redshirts are indicative of an even larger issue, and that being the numerous homages paid to other sci-fi & horror within the story. "The Satan Pit" unveils an intense action sequence so ripped from Cameron's
Aliens
, it doesn't even try to cover it up. Instead it proclaims, "That was one of the greats, and now we're going to offer up our humble stab at it". Aside from one glitch in the process, it works marvelously, too.
Read the rest of this article by clicking here and feasting at The House Next Door.